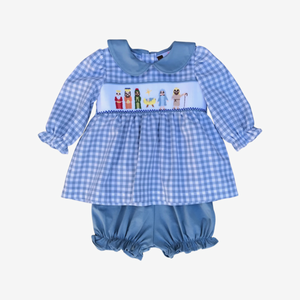 Banana Split Nativity Smocked Long Sleeve Bloomer Set
Embrace the joy of Christmas with our enchanting Banana Split Smocked Nativity Long Sleeve Bloomer Set. The star of this set is the intricately smocked nativity scene, capturing the essence of the holiday season. With baby Jesus lying in the manger, this design is a stunning representation of the true meaning of Christmas.
The puff sleeves add a touch of elegance and charm. The blue large gingham fabric adds a classic and timeless appeal, making this set perfect for capturing cherished Christmas pictures and attending special holiday events.
Crafted from a high-quality poly-cotton blend, the set offers both comfort and durability. Your little girl will feel cozy and free to play, whether she's participating in school programs, attending church services, enjoying play dates, or celebrating Christmas events with family.