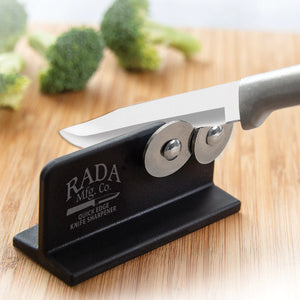 Rada Cutlery R119 Quick Edge Knife Sharpener
Item R119
Rada's Quick Edge Knife Sharpener renews the blades of your non-serrated knives to their original super-sharp status. The process is easy. Simply grip the base with one hand and pull a knife blade between the wheels four to six times with the other hand. Wipe off the blade using a soft towel to remove any metal shavings and you're done! This invaluable tool is inexpensive too because sharp knives shouldn't be a luxury.
Get your straight-edge knives in tip-top shape in just seconds. With a few quick pulls, your blades are as good as new.
The sharpener's dual wheels—made from specially hardened, high-carbon stainless steel—intersect to sharpen both sides of a knife blade at once.
Its simple design makes sharpening easy.
The small size—just 3½ʺ by 2ʺ–means you can tuck it away inside a drawer or cabinet until it's needed.
Great for hunting and fillet knives too—keep one in your tackle box!