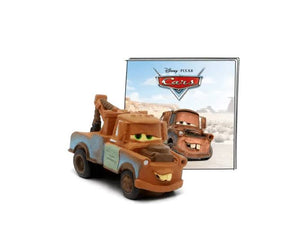 Tonies Cars Mater
The Toniebox comes to life when paired with our whimsical collection of Tonies: hand-painted characters with hours of stories to tell, worlds to explore, and songs to sing along with.
It's a Bird! It's a Plane! It's…Mater? Mater wants to learn how to soar through the air just like stunt-flying jets who perform some amazing tricks. Join Mater, from Disney and Pixar's Cars, as he learns how to fly and also travels to the Moon to save a stranded autonaut.
This Tonie teaches kids about:
Helping others

Trying new things

Teamwork
...
Narrated by David Jeremiah
© Disney / Pixar
Songs:
1. Our Town 🎵
2. Sh-Boom 🎵
3. Behind the Clouds 🎵
4. My Heart Would Know 🎵
Stories:
5. Air Mater
6. Moon Mater
Total Run Time: 25 minutes